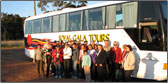 Royal Gala Tours offers a exciting range of tours in the magnificent and diverse region surrounding Bunbury, the third largest city in Western Australia, Bunbury is centrally located to take in the highlights of the region.
Royal Gala Tours provide Day Tours from Bunbury to Margaret River and Busselton on a Tuesday and Saturday, all aboard the Busselton Jetty train to the Underwater Observatory and the many attractions that Margaret River has to offer.
Enjoy a day exploring Collie and the Boyup Brook region on a Thursday and learn about the coal industry in Collie and the unique holograms and country music centre in Boyup Brook. view the Greenbushes Discovery Centre on our Friday tour that takes in Balingup Bridgetown and Ferguson valley highlights,
Be amazing at the attractions Bunbury has to offer on our Wednesday tours that takes in the Dolphin Discovery Centre, Big Swamp Wildlife Park, Featured Wood Gallery, Dardanup Heritage Park and learn about the history of Bunbury at King Cottage,
Please Download the "Royal Gala Tours 2019/2020" Tours Guide
Royal Gala Tours for all booking requirements and provide a wide range of tours in the south west of Western Australia with also a selection of extended tours, with regular scenic day tour departing from Bunbury which is easily accessible from Perth daily by regular train and bus services.
Use your Transwa free trip voucher to travel to Bunbury to enjoy one of our tours. Accomadation bookings can be arranged.
Join Royal Gala Tours, and let us introduce you to the hidden delights of the South West, experience with truly local knowledge.
Book your Bunbury Day Tour Now! Pickups at Bunbury Visitor Centre and Bunbury Accommodation.
Booking Phone1300 233 556
Email inquiries royalgalatours@bigpond.com